Questions About Kazakhstan: The Definitive Guide
An Antipodean travel company serving world travellers since 1983
Questions About Kazakhstan
Odyssey Traveller specialises in crafting unforgettable experiences for mature-aged travellers, providing adventure and educational programs to small groups since 1983. Odyssey has built up a reasonable knowledge bank to answer questions about Kazakhstan that travellers are likely to ask, as they make their plans to tour independently, or with us as part of a small group tour. We hope that this list of frequently asked questions and the answers we provide will help you with planning your next holiday.
Read on, but please do not hesitate to contact us via the website, email or chat if you have more questions about Kazakhstan or our other tours.
Where is Kazakshtan located?
Kazakhstan is in Central Asia, bounded on the north by Russia, on the east by China, on the south by Kyrgyzstan, Uzbekistan, Turkmenistan, and the Aral Sea, and on the southwest by the Caspian Sea. Kazakhstan is the ninth largest country in the world and covers a landlocked area bigger than all of Western Europe.
How is Kazakhstan landlocked?
A "landlocked" country means a country with no direct access to oceans or ocean-accessible sea such as the Mediterranean, which makes Kazakhstan landlocked even though it has access to both the Aral and the Caspian seas.
What does "stan" in Kazakshtan mean?
The Persian suffix -stan means "land" or "place of".
There is no consensus among scholars about the etymology of the word "Kazakh", but one theory says it comes from the ancient Turkic word qaz, which means either "to wander" or "to conquer", which may also be the root of the word "Cossack", referring to a member of self-governing military societies south of Russia. (Omeljan Pritsak discusses the etymology in more detail in "The Turkic Etymology of the Word 'Qazaq' 'Cossack'" published in Harvard Ukrainian Studies.) With the suffix, Kazakhstan can translate to "land of the wanderers" or "the land of conquerors".
Subscribe
Receive a AUD$350 voucher towards your first small group tour
Join
What is Kazakhstan famous for?
Kazakhstan is famous for its mix of Islamic and Soviet architecture, the futuristic design of its planned capital city (Astana, now Nur-Sultan), its surviving Soviet art, its connection to the Silk Road, and its picture-perfect natural landscapes.
You may have also heard of Kazakhstan in connection to its horse-riding culture. It was in the steppes of Central Asia where man first tamed wild horses (based on 5,500-year-old findings of horse fossil in northern Kazakhstan) for speedy transportation, and used its meat and milk for sustenance. Horse meat and milk are ingredients that can still be seen in modern Kazakh cuisine.
And of course, there is the 2006 satire film, Borat: Cultural Learnings of America for Make Benefit Glorious Nation of Kazakhstan.
What did Kazakhstan really think of Borat?
It is a bit unfortunate that the most lasting imprint Kazakhstan has made on popular culture and global imagination was by way of British comedian Sacha Baron Cohen's 2006 satire film. Cohen's mockumentary about a Kazakh reporter named Borat Sagdiyev pokes fun at Western (particularly British and American) bigotry and isolationism but has also, as is often the case with satire, led to some audience members believing and accepting that the attitudes and locales shown onscreen is that of the "real" Kazakhstan. As Yerlan Askarbekov writes in 2016, "the only thing accurate about Kazakhstan in this film is the country's position on the map."
It wasn't all bad: Askarbekov also relates that (quoting then Kazakstan foreign affairs minister Yerzhan Kazykhanov) following the film's release, Kazakhstan increased the number of visas it issued "by 10 times".
What is the language in Kazakhstan?
The official languages are Kazakh and Russian.
A large majority (97%) of the population is fluent in Russian, but Kazakh, following independence from the Soviet Union in 1991, has become the main language for education and government. The Kazakh language has no alphabet of its own and is currently being written using a modified version of the Cyrillic alphabet. The nation is reportedly going to introduce a shift to the Latin alphabet, to be completed by 2025.
Is it safe to travel to Kazakhstan?
The Australian government's overall travel advice level for Kazakhstan (as of July 2019) is "Exercise normal safety precautions", the same travel advice for popular destinations such as Italy, Spain, the United Kingdom, and the United States.
Odyssey Traveller regularly organises a 27-day Uzbekistan, Kazakhstan, Kyrgyzstan, Turkmenistan tour especially designed for the active mature-age traveller as well as a 22-day tour of Kazakhstan. Both small group tours are especially designed for mature-age travellers. Just click through to see the itinerary.
Can you visit Kazakhstan without a visa?
Citizens from certain countries, such as Australia, the United Kingdom, and the United States, can enter Kazakhstan without a visa and stay for at most 30 days. Of course, as visa rules can change frequently, it is always a good idea to check with your consulate before travelling.
Why is there a Russian space launch facility in Kazakhstan?
The Baikonur Cosmodrome is a Russian spaceport located in the southern part of Kazakhstan, a land leased by Russia for a yearly rent of about $115 million. When the Soviet Union dissolved, Russia did not have a major spaceport within its post-Soviet territory. The lease agreement with Kazakhstan was signed in 1994 for an initial 20-year lease, later extended to 2050.
It is in Baikonur where the world's first artificial satellite, Sputnik 1, and the first human in orbit, Yuri Gagarin (aboard Vostok 1), were launched into space. The Baikonur Cosmodrome has been the launch site since the beginning of space exploration in 1957 for Soviet and Russian cosmonauts, who after the Cold War were joined by American and European astronauts. Following NASA's retirement of the Space Shuttle program in 2011, the Baikonur Cosmodrome remains the only operational launch complex left for flights used to re-man and re-supply the International Space Station.
Odyssey Traveller has a tour to the Baikonur Cosmodrome that gives travellers a chance to visit the launch site and watch a rocket launch into space.
What are the places to visit in Kazakhstan?
Travelling to the largest landlocked country in the world promises diverse landscapes and incredible vistas. It is also a great place to visit for those more comfortable with city delights.
Cities
Almaty
is Kazakhstan's largest city and its main transport hub and centre of industry and education. It served as capital of the former Kazakh Soviet Socialist Republic (1929–91) and of independent Kazakhstan (1991–97) before the capital was moved to Astana (now Nur-Sultan). Almaty means "Father of Apples" due to the abundance of apple trees in the region.
The Golden Warrior Monument,
symbolising Kazakhstan's independence, is in Almaty's Independence Square (also called Republic Square). The Golden Warrior and a barys (winged snow leopard) sit on top of 28-metre pillar. Almaty also has the Kazakhstan Museum of Arts housing Kazakh, Russian, and Western European art, and the Kazakh Museum of Folk Musical Instruments showcasing traditional musical instruments from Kazakh culture, as well as instruments of Turkish, Uzbek, and Kyrgyz origins. A traditional Kazakh instrument is the plucked long-necked dombra. The art of playing the two-stringed dombra is inscribed on the Representative List of the Intangible Cultural Heritage of Humanity.
Nur-Sultan
was originally founded as a Russian military outpost. It was named Aqmola ("White Grave") following Kazakhstan's independence in 1992. Five years later, the country's capital was moved from Almaty to Aqmola, which was renamed Astana in 1998. Astana simply means "capital". On March 23, 2019, its capital Astana was formally renamed to Nur-Sultan to honour its longtime leader Nursultan Nazarbayev, who has resigned that month.
Nur-Sultan has the National Museum of the Republic of Kazakhstan, housed inside an eye-catching building of blue glass and white marble. It is the biggest museum in Central Asia. Travellers can view the Bayterek Tower, which stands 97 metres tall to commemorate the year 1997, which was when the capital of the country was moved from Almaty. The tower is topped by a golden egg symbolising new life, and which also serves as an observation deck offering a view of the city.
Soviet Art in Almaty
Kazakhstan's move to a new, planned city in 1997 may have saved the Soviet-era art in Almaty from destruction. The first Soviet mosaics adorned public spaces in Moscow beginning in the 1930s. It fell out of fashion under Nikita Khrushchev, who condemned the previous regime's excessive restrictions imposed on artists (some of whom were sent to camps or killed). However, the aesthetic reappeared as large-scale "monumental art" in the 1960s and 1970s. "Monumentalists" from Russia were sent to Kazakhstan to train local artists during this time.
In the period from 1965 to 1985, Almaty's buildings were widely decorated with these Kazakhstan-made Soviet monumental artworks. These art forms were collectively known as monumental'noe iskusstvo or "monumental art". Our article "Soviet Art in Kazakhstan" details the history and discovery of these rare art pieces and the efforts local volunteers are doing to preserve them.
Natural Attractions
The Kolsai Lake System is made up of Kazakhstan's most beautiful water formations, sitting in the midst of mountain ridges and fir trees. The lakes are so crystal-clear that they reflect their surroundings like a mirror.
A unique attraction is Lake Kaindy, sitting at an altitude of 2,000 metres, about 40 kilometres from the Kolsai Lakes. The lake was formed after an earthquake in 1911, the limestone landslide forming a natural dam, the water submerging a forest of spruce trees. The tree trunks poke out of the surface of the water, a dreamlike, otherworldly sight.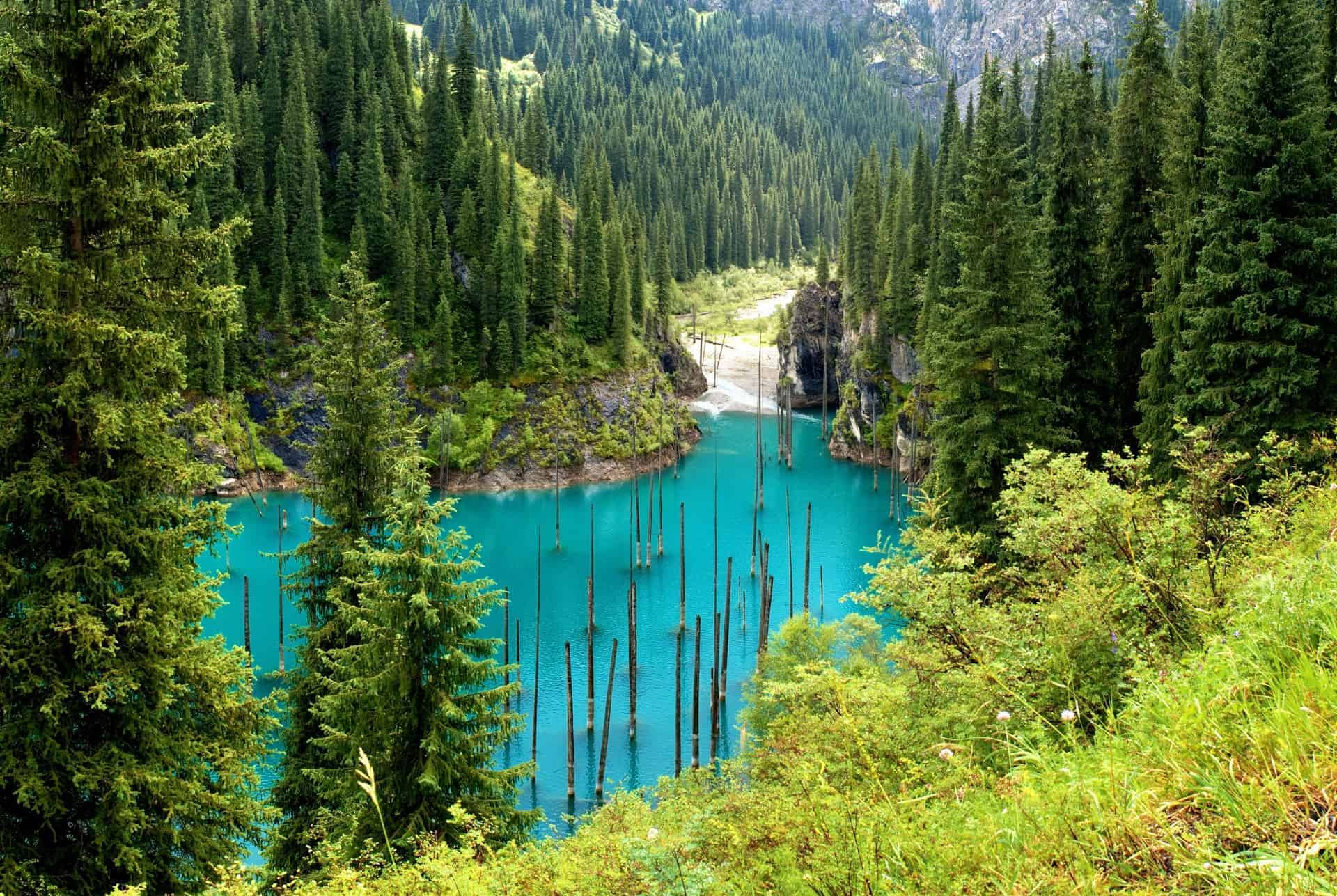 Another natural attraction is the 4,600-kilometre Altyn-Emel National Park. Created in 1996, it is Kazakhstan's largest natural reserve, comparable to four times the size of Hong Kong. The park is home to the Terekty Petroglyphs, which dates back to the Bronze Age, the stone carvings depicting the hunts, rituals, worship, and animals of the ancient nomads, as well as the Besshatyr burial mounds and the vertical Oshaktas, which were either used as a place to put giant cauldrons to feed Genghis Khan's army, or a signal tower to warn them against enemy forces.
Kazakhstan is dominated by the flat steppe, but 200 kilometres east of Almaty, the Charyn Canyon appears as if out of nowhere. Carved by the wind and the Charyn River (also spelled Sharyn River), the canyon is 150 to 300 metres deep and is often compared to the Grand Canyon.
You may read our article, "Exploring Kazakhstan", to learn more about the country's history and places to visit, and see the itinerary of our Kazakhstan tour if you'd like to see these wonders in person.
Related Tours
Visit the largest landlocked country in the world, Kazakhstan. Once part of the Mongol and Russian Empires, Kazakhstan is where man first tamed wild horses on the vast Kazakh Steppe, the dry grassland that dominates its landscape and connects it with Europe and the rest of Asia.
Join Odyssey Traveller in a once-in-a-lifetime opportunity to witness spacecrafts launch into space at the Baikonur Cosmodrome, the world's oldest and largest space launch facility located in Kazakhstan, south of Russia.
Departing Feb, Apr, Aug, Oct
This Odyssey is designed for the adventurous traveller, a traveller who is prepared for a range of accommodation styles, for walking excursions and some long travel days in 3 Central Asian countries. The program combines experiences with great scenery, ancient and modern histories, family visits and lifestyles that differ dramatically.